Be patient, you are gaining wisdom. 
I love this quote for our second Literal Mom of the Day this summer, Shell at Things I Can't Say.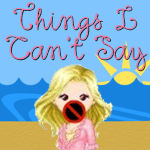 I admire Shell for many things, really.  She's So.  Darned.  Nice.  If you comment, she'll comment back.  If you tweet her, she'll tweet back.  She does a couple of features on her blog that totally showcase others besides herself – Pour Your Heart Out on Wednesdays and Blog Friend Feature on Fridays.  She has been sooooo nice to me as I've gotten back into the blogging saddle these last 2.5 months.   She has a great post on advice for twitter also, which is a constant source of learning for me.
But that's just the blogging part of her.  She is a true Literal Mom.  She's funny, she makes you feel like you're part of her life, some of her posts literally bleed with her love of her children.  It's one of the things that makes her so likable – how much emotion she shares about her children. 
She just posted yesterday how overwhelmed she's feeling right now.  I understand that feeling so well some days, but it's so hard to take off the "I've got it under control" face and I admire her so much for doing so with her readers.  I'm sure it was hard for her, honesty over how hard it is to be a parent some days (or weeks, or even months).  THAT'S one of the main components of The Literal Mom – honesty.  And Shell is that 100%. 
Frankly, I'm sure many of you already know about her – she's that good.  But.  Just in case you haven't met her, head over now.  Check her out.  Read some of her posts about her kids.   Look at her favorites page.  Follow her.  You will love her and agree that she's a Literal Mom too. 
Would you like to be a Literal Mom of the Day this summer?  Become a subscriber and tell me with a comment.  I've given you 4 easy options to subscribe in the sidebars – RSS, Google Friend Connect, email subscriptions and Typepad subscriptions.  It's that simple.  I love this project and showcasing all of the Literal Moms out there and can't wait to share next week's Mom (parent).